QUINTA DE SANTA LUZIA
VALENÇA DO MINHO
PORTUGAL
2 & 3 JULY 2016

The 6th edition of A Emoción dos Vinhos is moving just across the border to a beautiful 'quinta' or manor house in Valença do Minho in Portugal. The fair had previously been held in the cloister of the Gothic cathedral in Tui on the Spanish side. However, due to restoration work this most gorgeous setting for a wine fair was unavailable this year.
The decision to move the fair across the river to Valença do Minho is also intended as a warm, neighbourly gesture to the town of Valença do Minho and also to the many Portguese winemakers and growers who have lent their constant support to the fair since the beginning. The event is split into two sessions, the first from 11am to 2pm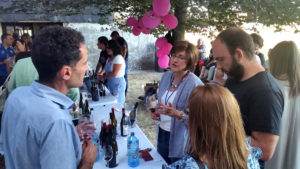 and the second from 5pm through to closure at 9pm. The three hour lunch can be used for having a spot of lunch in the lovely medieval quarters of Tui/Valença do Minho, or a 'battery re-charging' siesta at your hotel.
A Emoción dos Vinhos is a must do for anyone with a keen taste for high quality, often single vineyard wines, made with much love and affection and where a firm emphasis is placed on sustainable, minimum intervention viticulture, harnessing nature itself to combat nature's many threats. The opportunity to actually taste the wine with these vine whisperers and talk to them about the sheer effort and passion that goes into the whole process is not only an education but also a real privilege. In a world where quantity and marketing strategy take precedence over quality and identity, a visit to A Emoción dos Vinhos will be a life-affirming experience for even the most jaded wino.