"For me freedom isn't about what I want to do but about knowing whether I can do it or not. The starting point was "Can I bottle an idea?". Eulogio Pomares. 
Five years ago, D.O. Rías Baixas Val do Salnés sub-region winemaker Eulogio Pomares embarked on one of his 'Can I bottle an idea?' adventures and almost by fluke came up with something truly unique, an absolutely stunning late-harvest Albariño.
What follows is a spirited translation of part of the spec file for this extraordinary wine. Admittedly, it's a bit of a mouthful and a name only a very daring or extremely foolhardy 'anglo-saxon' would try to pronounce, especially if you've been tasting Albariño all morning. I had the very good fortune to taste it at Casa Solla in Pontevedra, recently voted best national restaurant in Spain by Conde Nast Traveler.
Albariño monovarietal Crianza Oxidativa 2011.
"Harvest was underway on December 1st and though the hoped for high sugar concentration level wasn't achieved, the long, hot sunny days with relatively high temperatures produced the desired 'pasificación' (transformation into raisins) on some of the bunches and the appearance of Botrytis with the notable presence of the mycelium typically associated with this fungus. The grapes were crushed (whole) in the pneumatic press and alcoholic fermentation and ageing took place in a stainless steel vat. Once fermentation was complete it was found that the total acidity of the wine was very high, 10.5g/l. We then decided to go for a very long ageing period of 36 months with the idea of integrating this high acidity into the wine, thus ruling out any need for malolactic fermentation. The upper part of the wine was allowed to come into contact with oxygen, facilitating the development of a thin layer of natural yeast 'flor'. No racking was done during the ageing process and the wine was bottled in October 2014. Finally, the wine was aged in the bottle for a total of 6 months."
Though these "Great Uneven Wines" are made in miniscule quantities, Albariño monovarietal Crianza Oxidativa 2011 just 1,200 bottles, they are well worth hunting down if you're in the area. If I'm not mistaken, Indigo Wines distribute Eulogio's wines in the United Kingdom.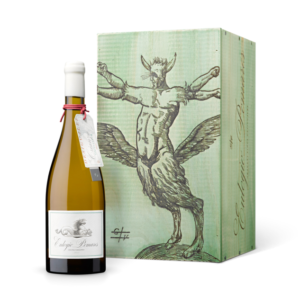 Jamie Goode at the Wine Anorak reported the following: 12.5% alcohol. Yellow/gold in colour, this has a lovely nose of ripe apples, herbs and lemons with hints of honey and wax. The palate is quite profound, with a lovely textured citrus fruit character, a touch of lemon peel, some pink grapefruit and a touch of nuttiness. But the most amazing thing is the acidity; it's just so keen and intense with a mouthwatering quality. But there's no harshness to it: it's perfectly integrated into the wine. The finish persists for ages. A thrilling wine. 95/100
Altogether a thrilling wine for Jamie Goode and for those of us that have been lucky enough to taste it. Keep on having those brainwaves Eulogio!!
More info: www.grandesvinosdesiguales.com
You can find Eulogio's wines at the following establishments.
Despensa do Ribeira in Cambados. www.ribieiradefefinans.com
Juncal Alimentación in Pontevedra. www.juncalalimentacion.com