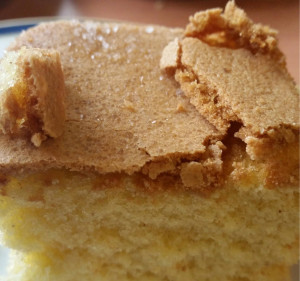 Bica is a type of cake made chiefly in Castro Caldelas (Lugo) and Pobla de Trives (Ourense) in the Galician heartland. Milucho and Malena of Panadería Peña in Castro Caldelas have been making it for decades and no breakfast table worth its salt would be complete without their delicious, artisanally crafted Bica Amantecada.
After years of toiling day and night, Milucho and Milena are about to take an extremely well deserved rest. Sadly however, no-one in the family will be continuing the tradition which means that Bica Amantecada Malena will soon become just a fond memory for the good people of the Ribeira Sacra.
Castro Caldelas is a pretty little village with an ancient castle and a couple of good wineries nearby (Ponte da Boga, Adega Vella) and while there are a couple of other artsanal bakers that make bica in or around the village, Milucho & Malena's was our firm favourite.
Here's a recipe you can try at home. You might not match the undeniable brilliance of Bica Malena, but it'll certainly be worthwhile and we guarantee you'll become a bica nut in the process.
Ingredients:
4 large eggs.
200gr sugar.
200gr sourdough.
190gr plain white flour.
200gr quality clarified butter/ghee.
10g natural baker's yeast.
1/2tsp ground cinnamon.
Method:
Although this recipe is reasonably uncomplicated, the sourdough will have to be made at least 4 hours in advance or perhaps the day before, in which case you'll have to keep it in the refrigerator overnight. Combine 200gr of strong flour, 2gr of fresh yeast and 120gr water and knead until you get a smooth dough. Cover with a tea-towel and allow to ferment at room temperature for 4 hours. You'll need to remove it from the refrigerator approximately 2 hours before you intend to use it.
Beat the clarified butter/ghee with the sugar till you get a whiteish, creamy texture.
Add the sourdough in small pieces and beat.
Add the eggs one by one and continue beating till you have a uniform mixture.
Combine the flour with the yeast and cinnamon and sift it over the dough. Mix gently together.
Line a 5cm deep rectangular baking tin with a baking parchment greased with butter.
Fill till about three quarters full with the dough, levelling off with a spatula.
Sprinkle the top generously with sugar or a combination of sugar and cinnamon.
Bake in a pre-heated oven at 180C for around 45 minutes.
Leave to cool in the baking tin. Some say it tastes better the following day.
Contact:
Panadería Peña
Avda. Ourense, 83 Bajo
32760 Castro Caldelas (Ourense)
Galicia
Tel: 988 20 30 17
Mobile: 619 10 44 74